We are proud to announce that Summer Crealy's major work for Visual Art was officially nominated in this year's ArtExpress. We eagerly await to hear if her work is now selected for exhibition.
Also, it is exciting to announce that Summer is the winner of the 2020 Nowra Anglican College Annual Art Prize. This is an acquisitive art prize in which the graduating HSC students of 2020 donate the funds to purchase an exemplary body of work for permanent display as part of the College's art collection.
The 'Arts', broadly speaking have such a beautiful capacity for insight, for growth and transformation. There is the part of the arts where the audience consumes the artists' work, we go to galleries, we read, we listen, we go to the theatres; and then there is that whole creative part, the part of the arts where it is the artist who attempts to manifest that which is not yet understood within, that which is unknown. Sometimes the seed for this is a question or a curiosity, sometimes it is a hunch or a gut instinct, sometimes it is a response to the world in a not yet fully known idea or an amalgam of these and many mysterious things.
Summer's body of work was a difficult journey, there was hard work, reams of research, a progression of ideas that evolved but didn't quite click, techniques that didn't quite resolve. Life threw some pretty big challenges at her… we were about three weeks out from the due date and she hadn't really been able to get going. Then step by step it began to happen, at least it looked like it was happening, then quickly it was obvious that it was happening. It was beautiful to see a student who has a had a lifetime of artmaking, who had genuinely tried so hard, overcome challenges and all of a sudden drop into that flow state, that wonderful alignment of ideas, abilities and actions when gifts manifest as talents.
Here are images of Summer's work and her thoughts about the work in her artist statement: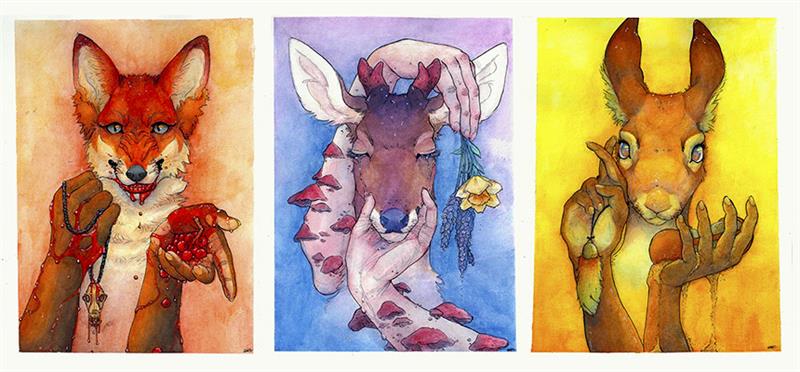 Title of Project: The Nature of Grieving
Artworks: Coralberry Corruption (fox, left), Gentle Narcissus Germination (deer, centre), Fortunes of Troubling Times (rabbit, right)
Artist Statement: The ideas behind my work involve the process of grieving and my own interpretation of the overall experience as I aim to communicate my own methods of dealing with grief through my artworks. The methods I attempted to communicate were the importance of identifying deception by others who attempt to use you for their own needs and exercise the right to deny their requests and expectations of you if they are harmful to your wellbeing, Allowing yourself to be gentle and vulnerable with yourself and feelings and practise self-love while taking time to grieve, and attempting to make plans that benefit your own wellbeing and reflecting on fortunate memories as a way of coping and accepting the passing of another.
I have used watercolour pencils and Stonehenge paper primarily for the creation of my work for the reason that watercolour as a medium can be spontaneous and unpredictable as you are painting. This is relevant in relation to my concept as the process of grief can be similarly unpredictable and harmful to your wellbeing. That is why through the artmaking of my work I illustrate a necessity for caution and patience, as well as forgiveness such as when the work doesn't turn out as expected by including patches of less saturated colours within the background and overlapping lines of paint within various boundaries, as is part of the natural challenges associated with watercolour. This can be reflected within the viewer's own practice in dealing with grief, enabling these values of caution, patience and forgiveness.