Dear Parents and Carers, Firstly, we thank you for your patience and calm during this difficult time. We appreciate that many parents are uncertain about whether to send their child to school or not, especially working parents who are employed in essential services.
We have been advised by the Association of Independent Schools (AIS):
"the provision of on-campus learning is intended for children of essential services workers, children in need and children of parents with no option other than to send their children to school. However, the expectation is that most children will remain at home."
Our priority has always been to ensure the wellbeing of our students and staff, which is difficult to do in these circumstances. We are continually adjusting to the fast paced changes of this situation.
The AIS have further advised us:
"the provision of different modes of teaching between on-campus and at-home is not sustainable; government schools and many independent schools will provide 'remote learning' both for students at-home and students on-campus."
At this stage we are transitioning quickly from face-to-face delivery towards remote learning for all students both on-site and off-site.
This means that this transition will happen over a short period of time. In the short term, our teachers may not be able to respond quickly to your emails or phone calls, or learning platforms. We will also adjust the student experience on campus so that one teacher supports student learning here on campus while others support those off-site.
Please download the PDF file below which explains our approach to Remote Learning.
The PDF also contains A4 Remote Learning Guides for families to refer to.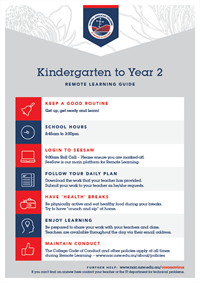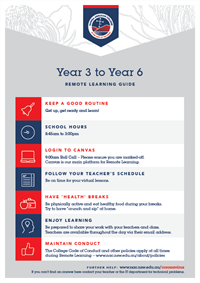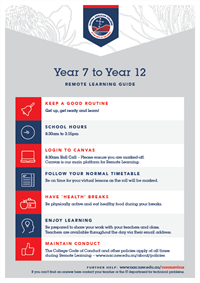 Kind Regards